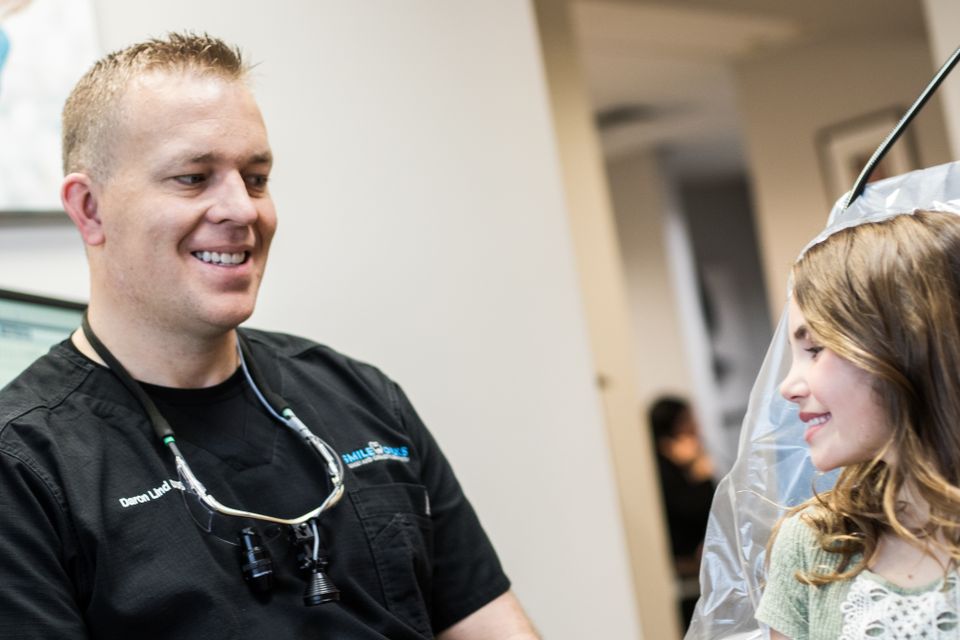 Your First Visit to Smileworks in Meridian, Idaho
Welcome and thank you for choosing our Meridian office as your new dental home. Our entire team is dedicated to making your experiences with us positive and enjoyable.
Modern dentistry provides many alternatives for your comfort and the longevity of your dental health. To help you feel more comfortable and at home, we have provided you with some information about your first visit at Smileworks.
One of our goals is to provide you with the most thorough dental examination possible. The examination includes necessary dental films (x-rays) and photographs, an Oral Cancer Screening, an exam for early signs of any gum disease, and an evaluation of your bite, teeth and jaw joint. If any type of gum disease is diagnosed you may be asked to return for additional customized treatment. Our registered dental hygienist provides a thorough professional cleaning and works with you to develop a personalized home care routine. Whatever your goals are concerning your dental health, we are here to assist you.
We follow your examination with a consultation about your goals and your dental needs. All questions and concerns are completely covered. If treatment planning is complex, we may ask you to return for a more comprehensive consultation with the Doctor after he has reviewed your records and desires.
Financial arrangements, including answers to questions about any insurance coverage you might have, are made with our Patient Care Coordinator before any treatment is begun.
We look forward to meeting you. Please arrive at least 15 minutes before your scheduled appointment time.
Welcome to the first step in better dental health!
Most Sincerely,
Dr. Daron Lind
Smileworks Dentistry
Smileworks Patient Paperwork
At your first appointment at our Meridian, Idaho office, you'll have a lot on your mind already, we're making that first appointment easier by providing you with the necessary paperwork you'll need.
Download New Patient paperwork Here
We accept all Dental Plans. We are a PPO and Premier Provider for many major insurance companies such as ALL Delta Dental Plans, Blue Cross Of Idaho and any other state, Met life, Aetna, Cigna, Humana, GEHA, United Health Care and etc.
If you are not sure of what kind of insurance you have, you can call us at
(208) 846-8847 and we will be happy to help you.
We do all the billing for you. All you need to do is come in and have the treatment needed and we will take care of the billing.
Facts About Dental Insurance
Fact #1:
Your dental insurance is based upon a contract between your employer and the insurance company. Should questions arise regarding your dental insurance benefits, it is best for you to contact your employer or the insurance company directly. However, our office will provide you with the closest financial ESTIMATE possible with the information provided by your insurance company to our office.
Fact #2:
Dental insurance benefits differ greatly from traditional medical health insurance benefits and can vary quite a bit from plan to plan.
Fact #3:
You may receive an EOB from your insurance company showing our office fees, that doesn't mean we are charging you our fees we simply have to show insurance companies our office fees even though we are actually billing contracted fees if in contract with you insurance company.
Fact #4:
Insurance companies cover many routine dental check-up and cleaning appointments at 100 %. We feel that dental insurance can be a great benefit for many patients and want you to know we will do everything in our power to ensure that you get every benefit dollar you are entitled to.
Fact #5:
SmileWorks is NOT responsible for Dental Benefits Frequencies, Limitations or Exclusions. Any discussion our staff has with you about your Dental Insurance is a courtesy and ONLY an estimate.

Patients are ultimately responsible for payment in full for all services regardless of what benefits we may think you have. Our office cannot be responsible for what has become random provisions and changes in all insurance policies that affect payment.
We especially are not able to process claims when we are not told in advance of an appointment that your insurance has changed. Payment will be required at time of service if it has changed without prior notice to our office.
Our obligation to you and your family is to take care of your oral health not to follow arbitrary rules established by your employer or your insurance company. Please contact your insurance company before dental appointments and be aware of provisions that affect payment.